Lyon's Lake in the Desolation wilderness!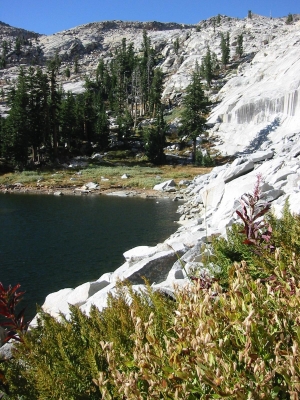 This was (again) a really nice hike! Jason Evans came along with us, and he's a really great person to go with. I got home late, and so Steph and I packed everything up in 30 minutes and were on the road extremely quickly. We packed our gear, and food for all three of us. I highly recommend making a checklist! We were able to pack up and go SO quickly! We stayed in a KOA near Placerville so that we could pick up our permit on our way in to the trailhead the next morning.
The route we took was listed as only 5 miles, but was marked as "moderate" in difficulty. There were a lot of rocks on the trail, making footing rather tricky, but we couldn't figure out why it was "moderate" until near the end. The last half mile or so rises very sharply up a big granite mountain until you get to the lake. But other than that, the hike was mostly a nice easy climb.
You start out from the trailhead (be sure to get backcountry permits!) and wander up a glacial valley, strewn with boulders left behind after the ice melted. Despite the rockiness, there is quite a bit of plant life, and a pretty stream parallels the trail for much of it. We actually took the stream partway down to the trailhead on the way back because it was so pretty. Perhaps because of the lateness of the season, there wasn't much water, and so you could see lots of glacial polish, and there were little pools everywhere where tiny trout swam, probably trapped there unless a fall rain saves them. Very nice. The turnoff from the Sylvia Lake trail was not super obvious, but there was a post there, so if you watch out for it, you'll see it. Then, the trail steepens, and is often marked with trail ducks because the trail is mostly stone. It's quite steep, but not for too long. And the reward is a WONDERFUL view of the lake and the steep rock walls which enclose it!
Fall was just starting to show, with the aspens in the lower elevations starting to turn, yet it was still quite warm. There was a nice breeze until we got to the lake, whereupon there was a fairly stiff wind. It was nice during the day, but it did cool us down during the night. Even so, we slept with the rainfly off, and it wasn't that cold. Part of the reason why I didn't put the rainfly was because there was no place to stake it out! It's so rocky that there are very few places with dirt around. There may have been one over on the other side of the lake, but there were a couple of folks already there, so we didn't go over and check it out. We just went straight up the left edge of the lake to a big flat slab of a rock which looked like it could have been made as a house foundation, and was sheletered from the wind by a small ridge. There are not hardly any isolated campsites besides those two, unless you have a bivy sack. But being isolated is an easy thing to feel up there. It's so rocky and barren and windswept... It's beautiful! I envied Jason, who did bring his bivy sack and slept out under the crystal clear skies all night.
We didn't hear or see any critters at all, but we brought our bear cannister anyways. Squirrels are devious fellows. :-) Jason and I walked around the lake and thought about trying to climb the little peak which loomed over our lake, but laziness won out. There are apparently some interesting mountaineering targets within striking distance of Lyon's lake and Lake Sylvia, but we did not take advantage of them. We sat up in the night under our sleeping bags and marveled at the near full moon which lit the place up so that we didn't even need our flashlights. Many discussions were had, and we had a fun time making tea and chatting.
The next day, after a leisurely start, we made our way back down the mountain, returning partway via the streambed. Going down is tough on the knees when it's that steep, but it wasn't that long, so we survived quite well. I gave some string to a person who had forgotten his and was worried about animals eating his food unless he were able to hang it, and we left for a drive home which was fairly uneventful except for a tire tread flying up and hitting the window in front of me. Jason's car survived with minimal damage. Yay!
So here's the map of the route which we took.
Pictures are here. I didn't label them in such a way that they are in order, so the rough chronological order in which they are supposed to be are:
Starting out, and some misc landscape pictures.
The neat creek series of pictures.
Various views of things like mountains and big rock walls.
Lyon's pond and the lake pictures.
The rockfall pictures.
Evening views of rocks.
Unfortunately, I ran out of both batteries and flash card space at the same time, having used a lot of both at Burningman and Bodega Bay. Damn! So I only got a few pictures of the first day. It was a very pretty night, lots of moon, and I could have probably taken pictures at night, which was very pretty. And I didn't get any pictures of our camp, which was sad to me. Because it was a nice place.

Have fun!