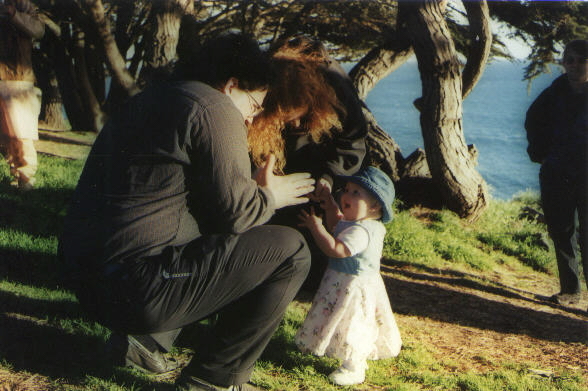 Rachel Gollub
rmg@hungry.com

Hi! Welcome to my home page. I'd love to tell you who I am, but the best I can do over the Web is tell you what I do, and hope that suffices. I'm currently technical manager (manager of technical projects) in Academic Computing at Stanford University. An astonishingly busy and rewarding job after years of mindless coding; I recommend working in higher education to everybody.

You may have found this page through Sun Microsystems -- I used to work in Cupertino, California, as an engineer for JavaSoft. (Yes, I'm the author of the clock applet and the bubbles applet.) I wrote these when Java was in alpha (soon after I started working there, right after it changed names from Oak), and they've followed me around ever since.

I graduated from the California Institute of Technology in 1993, and I was, unsurprisingly, a Darb. I love learning Karate, and have been a martial arts enthusiast since I first learned what martial arts were. I'm an avid quilter; I rarely finish a project, but I have more UFO's (unfinished objects) than anyone else I know. I read extremely quickly (and constantly), and am always happy to recommend good books. I collect knives (mostly fighting knives), and am just beginning to explore knife making. Some say I'm a deadhead, some says I ain't. The Further Festival was excellent, though, and though I miss Jerry, it's clear things are far from over. I'm also currently getting my master's degree in Military History (Land Warfare, International) from American Military University. A girl's got to have a hobby.

My husband Jeremy isn't yet on the web, being a biophysicist with a 286 in his office. Ask him about the mystical significance of frogs. :) We're very proud of our first child, Miriam Sadie Lisbeth Gollub, and are currently celebrating the birth of our second, Edith Rebecca Gollub. That's Miriam at 11 months in the picture -- I'm the redhead leaning over her, and Jeremy's the guy crouching down in front of her.

I've given a lot of thought to writing a friends page, but can't bring myself to do it, since I know I'd leave someone off by accident, and they'd be hurt. But making no mention of the people in my life seems like an inexcusable omission. So instead of individuals, I'll point you to a few pages that list many of my friends at once. I am a member of a horde, which really isn't anything like a gang, though both seem to involve guns, fighting, and wandering around acting like someone you're not. Everyone listed (with the exception of a few people I have never met or have only met once or twice) is someone I consider a friend, and enjoy spending considerable time with. I'm also a hungry programmer, especially when I forget to eat lunch. Also, there are deadheads all over the net these days, doing all sorts of interesting things. If you're bored, write to some of them, and ask them about themselves; there are some amazing stories around.
Check this out!
The AWARE homepage (Arming Women Against Rape & Endangerment) is on line! This is an excellent source of self-defense information for women, from target denial through unarmed self-defense and pepper spray to armed self-defense. AWARE recommends Model Mugging for unarmed self-defense (as do I!) - wherever you live, you can find the nearest Model Mugging chapter on the locations page at BAMM (Bay Area Model Mugging).

I can't emphasize enough the importance of learning self-defense, regardless of your gender, race, status, age, etc.. Both armed and unarmed self-defense skills are invaluable for assuring your personal safety, as well as allowing you to change the world around you without fear. My favorite shooting range (Target Master in Milpitas) isn't on line yet, but it's in the phonebook, and along with BAYPROFS, provides good basic firearms classes in the San Francisco Bay Area. Check your local phonebook for classes near you.

If you're interested in talking, write to me - I'm always interested in meeting new people, and mailboxes are there to be filled.

Thanks for stopping by....