Danish Creek Camp!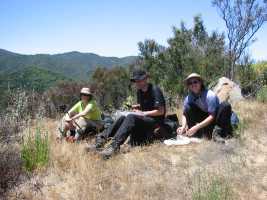 This was another hike in the ventana wilderness. And it was probably our last trip with Marya and Bernd, who are moving to Germany. Sad! But it was nice! We made it a very short trip because we didn't know how good Bernd's leg would be, and not only that, I came down with a big bad cold and was feeling pretty low. So we didn't go very far. We meant to hike each of the 3 days, but instead we just went to Danish Creek camp and stayed there.
The Ventana Wilderness is really quite beautiful. There are so many different odd biomes around, depending on which side of the hill it is, or how near it is to water or the ocean. It's really amazing. From redwoods to desertish terrain to grassy meadows, it's got lots of interesting plants. And the terrain is remarkably rugged. The hills are steep, and there's lots of poison oak everywhere, making it fairly difficult to go off-trail. And there are lots of animals too! We saw frogs and salamanders and snakes and bats, and an annoying amount of flies and mosquitoes, though not as bad as other places we've been. :-)
We started out at the Los Padres Dam and hiked in and took a right at the first trail junction, switchbacked up the hill under lots of shady trees harboring lots of poison oak until we came to the grassy open ridge of the hill, then took a left on the top of the ridge to go down the rattlesnake creek trail, which steeply descended down a trail lined by scrubby desert plants and lush undergrowth (including poison oak) wherever there was shelter from the sun. We then stayed at Danish Creek Camp. We were going to backtrack to the first split and continue on to Bluff camp the 2nd day, but I was too pooped and Steph ended up tweaking her ankle on the way up.
But luckily, Marya and Bernd didn't seem to mind. The campsite was Beautiful! A nice big open grassy meadow with wildflowers and drying grasses. There were about 3 secluded spots, all with nice oak trees shading them and plenty of space for tents. And a stream runs right by it, deep enough at this time of year to actually get in and bathe, if you can stand the COLD temperature! I'm a wimp. Everybody else could, but I couldn't. It's just way too cold for me. Though I stood in it and washed my face and arms. :-)
The only downside was the insects. Depending on the temperature, there were various waves of insects which came by. Most of the day, it was pretty clear, but flies and mosquitoes came by as it heated up in the morning, and as it cooled off at night. Bernd got a ton of bites on his back through his shirt, and we pretty much all ended up wearing bug juice and/or our raingear all day to keep them away. There weren't clouds of them, but there were enough. And there were ticks too. Not too hard to avoid, but still, kinda freaky. And I guess there was tons of poison oak everywhere too, including on the trail, which was rather overgrown in places. But we were careful and removed our hiking clothes and scrubbed down with Tecnu after the trip was over.
Marya and Stephany each rented a set of trekking poles to see if they'd do any good for us. I really liked them on the trail from the dam to the first split of the trail, but after that, it was hard to use them effectively, because the trail was so narrow and had so much brush encroaching on it. Steph couldn't really figure out whether she liked them or not. She tweaked her ankle because the trail edge gave way when she put some weight on her pole, and she landed on her foot awkwardly. But she liked them in other places. We actually ended up using one each when we got on the narrower trail with all the brush in/on it. It was easier to push just one pole ahead, and we could use the pole to push poison oak out of our way too. In any case, I think I'm going to buy a set of adjustable ski poles and use them for skiing and hiking, because I think they did help my knees, though truthfully, we didn't go far enough to really test that out.
So here's the map of the route which we took.
My pictures are here. And the great pictures that Bernd made can be found here. He got lots of pictures of animals we encountered.
Have fun!