Sand Ridge Lake!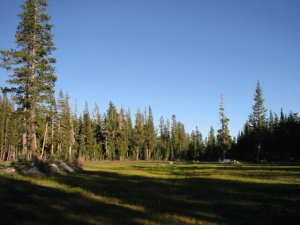 This was really a super nice trip, though it started out a bit yucky. We drove up to Donner Pass and expected to camp in one of the many campsites there along the freeway. They were all full, save one that was like 300 feet from the freeway. It was nice, but noisy. Note: Try to plan for trailheads that are FAR away from traffic. Or perhaps try not to find a camping spot at 11:30pm. Sleep was difficult to find with semis roaring by almost constantly. And the next day, the hike started out with a mile or so which was within hearing distance of I-80, which was somewhat aggravating to our nerves, already somewhat worn by the first night.
Anyways, we went up to the Pacific Crest Trailhead and walked our way up to Sand Ridge Lake. Or so we thought. :-) As you can see from our map, courtesy of Topo! and our GPS unit, we missed the lake by a few hundred yards. But we found a really beautiful meadow, which was really really nice and deserted, and we situated ourselves there, puzzling over the lack of water in the area. We just figured that it had all dried up, like it had almost the 2nd time we went to Snow Mountain. So once we got to the meadow, I went back to the creek by the Sierra Club lodge, and I pumped 3.5 liters to carry back. There, I met a nice fellow who was doing a big hike of some sort (probably doing some large portion of the Pacific Crest Trail) who had the same water filter as I, and showed me a neat trick about how to filter water directly into Steph's Platypus pack without having to filter into a Nalgene bottle and then pour it in. We also chatted about our stoves and sleeping bags and other interesting gear stories. It was quite fun. However, upon returning, Steph had walked around a bit and had found a small pond just a few hundred feet away from our tent in the trees. DOH!
There were tons of beautiful flowers, and it was super clear and cold that night. We sat outside and watched stars under a sleeping bag until the dew forced us to go in our tent. The next morning, there was a ton of frost on everything. It got pretty cold that night. We huddled under "The Oven", our 0 degree bag, with our 30 degree bag zipped on underneath us until we got warm. But after that, we were fine. In fact, in the morning, there was lots of dew on "The Oven", meaning that our heat wasn't able to get through and evaporate the surface moisture off, like it had on our other sleeping bag. I highly recommend the Marmot Couloir. So the night was fun and we slept well! The next day was much warmer, and there were a lot of flies which eventually drove us from our sunny area and books around 11am back to the car back down at the trailhead.
There were a lot of hikers and stock on the PCT section of the trail, but once we got off towards Sand Lake, we encountered only a few bikers and maybe 4 hikers. And nobody else showed up after 5pm or so. It was really nice. The trail was very dusty, and the people we hopped off the trail for thanked us very nicely, so even though we encountered quite a few folks, it was actually not a bad thing. It seemed as if most people wanted to go hiking up the PCT, or were just day-hiking, so we were left alone. Though perhaps if we'd made it all the way to Sand Ridge Lake, we'd have run into some people. Who knows?
So here's the map of the route which we took.
Pictures are here. These were the first taken with Steph's new camera, so I think the white balance is kinda off. But I'm not sure.
Have fun!