Our Honeymoon in the Canadian Rockies!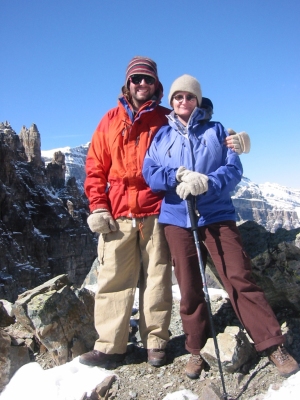 Our Honeymoon was awesome! The Canadian Rockies were incredible! This was the perfect time to go, too. The temperatures were cool, hovering around freezing a lot of the time, but it was BEAUTIFUL! The larches were turning, and the weather was amazing, and it was just way cool.

My pictures are here. And there are some GREAT ones!

We drove up after our wedding to Steph's parents place, where we packed our stuff into our old Nissan Sentra which we had given to them, and in the morning, we drove on up to Redstreak campground, on the edge of the mountains. We got in and set up our camp and decided to walk on the trail to the nearby hotsprings. The trail was great, but it started to rain, and it got dark before we got to the hot springs. On our way in, we came upon a herd of bighorn sheep grazing near the trail. It was amazing! They really had huge horns. We got back, and discovered the first reason why Parks Canada rocks beyond all measure. They have nice shelters in every campground!! So when it's raining, just go over to the nearest shelter, and cook out of the rain!!

The next day, we drove into the Kootenay National Park and went to Radium Hot springs. It was fairly empty, and really nice. It rained on us, but it was so hot, it was wonderful. We noticed our first german tourists there, in what was to become a strange recurring theme. Germans go to the Canadian Rockies. Lots. Dunno why. But they were everywhere. Then, we drove on in over the pass and into Banff National Park. We stopped at a lake, and there were lots of burned trees from the fires that had happened this year. It was kinda cool. And the rain was snow up at higher elevations, something which was neat. Our first of the season.

We then drove to Lake Louise, hiked around the lake, then went to the visitor's center to figure out what we wanted to do. We were going to go backpacking, but somehow we were feeling ambivalent, so we decided to just drive around for a couple of days to figure out what we wanted to do. Lake Louise was nice, but there were a lot of people, and the hotel there was kind of big and strange. Probably nice to be in, but it seemed to be sorta out of place a bit. So we ended up staying that night in the Lake Louise Campground, where there were more germans.

The next day, we drove north. It was amazing. Everywhere we went, there were GIANT MOUNTAINS! GLACIERS! TURQUOISE LAKES! It was incredible. Hard to describe. The mountains themselves weren't all that tall compared to the Sierras. About the same. But the suddenness of their relief was amazing!! They just came shooting up out of the ground. They were big. Just huge. Big. With big glaciers dripping off of them. Way cool! I kept stopping and taking pictures. They all look pretty silly, I'm sure. But it's because the photos just can't show the scale. It was amazing.

We drove up to the Columbia Icefield and went to the visitor's center. There they had lots of info about glaciers, and we went out to the foot of the Athabasca glacier (I believe), where we climbed on the toe of the glacier. They had some interesting signs on our way up the hike to the glacier. First, they had little signs that showed where the glacier was at certain dates. Like 1890 and 1950 and 1973 and 1980 and 1995 and so on. That glacier had shrunk a lot. Then, as we grew nearer, they started showing signs about how you shouldn't go on the glacier, about how bad it is if you fall in to a crevasse, and about how the last 5 people who did it died, and about how kids can easily get trapped without you knowing, and BTW, did you know the last 5 people died? Dying in a glacier is pretty crummy. 5 people did this over the last few years. It's easy to die even if rescue teams move super super quickly, as the last 5 people found out. You could be next!! They really wanted you to know about the dangers. But we climbed on it anyways. They had an area roped off where hopefully people had probed it out, and there wasn't much snow on it, so it would be hard to hide a crevasse. So we went up there. We were glad we had our warm clothes on (good thing we like skiing and camping!!), because there was a very cold kadibatic (sp?) wind coming off the icefield down the glacier, and the weather was pretty cloudy and rainy/snowy. So I got to wear my glacier glasses on a glacier. It felt good. Some japanese tourists took our pictures and then ran back to their car. Their coats were not sufficient, and I guess they wanted a photograph of some coats which were.

So after a day of driving about and seeing all these amazing things, we went back to Waterfowl Lake and camped there along with some germans. The next day had better weather (some blue skies), so we made breakfast along the lake and hiked up to Chephrem Lake, which was right underneath the very imposing Chephrem mountain, which was named after the son of the guy who made the great pyramids in Egypt. That mountain was massive. We saw some mountain goats on it. But being beside it brought weather. Wind and little hail/snow balls and some rain. It was very cold out there. No blue skies. We ate lunch with our nifty new picnic set wearing all our layers and hid in a nice bush out of the wind. It was kinda fun, being warm and dry even though conditions sucked.

We then went back to the camp and signed up for another day with the germans and then went back to the visitor's center where we learned more about the columbia icefield (a really neat big huge glacier thousands of feet thick on top of a bunch of mountains with little tributary glaciers dripping off it's side), and went for a ride in a snow coach out into the middle of the glacier where it was 1000ft thick. That was cheesy, but it was kinda fun, and the snow coaches were pretty amazing vehicles. It was odd to see all of the tour-bus crowd out there. They didn't have very good coats or anything. They were seeing a very different Canada than we were. :-)

The next day, we went up to Wilcox pass. It was a bit of a hike, but it was quite worth it. We had great views of views of mount Athabasca, the most climbed mountain in Canada, apparently. It was incredible. On our way up, we felt a bit embarasssed because we were carrying packs full of layers, and we kept passing folks carrying pretty much nothing. But when we got to the top, damn, it was cold, and we were glad for every piece of stuff we had. It was quite fun. There were no less than two herds of bighorn sheep, and it was really cool to see the trees get smaller and smaller and the alpine area begin. This was a common theme on our trip. There were trees that were about 3 feet tall which were 3-600 years old. The plants in the alpine wilderness were small and thick, clustering close to the ground to escape the crushing snows and intense winds. It was really beautiful. And on the way down, we met some germans.

Then, we went to Parker Ridge. Which turned out to be REALLY cool! Both literally and figuratively. Weather was moving in, so we bundled up and walked up what appeared to be a small uninteresting rocky ridge. On our way up, we walked through an avalanche zone, saw some really cool fossils, and then got to the top and were confronted with an incredible view of the longest glacier coming off of the columbia Icefield. It was amazing!! Weather was coming in, and we got pelted with graupel and buffeted by winds. But we stayed warm and hung out up there, drinking in the views and reveling in the solitude, as everybody else had been driven down to their cars. :-) It was truly beautiful, but unfortunately our camera battery gave out, and so I was unable to take many pictures.

That night, rather than another night of freeze-dried food, we went to a nearby restaurant. Actually, it was the only restaurant for hundreds of kilometers, so it wasn't really nearby. But the extremely nice waitress charged our battery while we ate. She rocked. I ate Buffalo. It was OK. But it was nice to eat while sitting in a warm place. Not to say that we didn't eat well otherwise! We had lots of food that we'd brought with us or bought on the way. And the coolness of the weather (avg temp: 0C) helped keep all our food fresh. And we had a really cool new stove, MSR's new simmerlite stove, which was way cool. We were able to cook on our new MSR blacklite cookset all sorts of neato things which we couldn't really do on our old stuff. It was just that it was kind of a struggle to prepare food while wearing gloves, and to eat it before it got cold, and to do it by the light of your headlight. After a week, it was kind of a chore. So dinner at a restaurant was nice.

I believe that the next day, it was a lot nicer, and we ended up going up to a former fire lookout which could see down three different valleys. The trail was absoltuely deserted, and so we talked a lot, loudly to try to alert bears to our presence. We probably didn't talk loudly enough, but luckily, we didn't see any bears. It was a fun hike. The guidebook said that the trail went relentlessly uphill. And sure enough it did. So we joked about how steep it was, and how it really did seem relentless, haha haha. But the jokes faded out as the true relentlessness of the trail became apparent. It was one heck of an uphill climb. Relentless!! Steep, all the way up! But oh, was it worth it!! You could see nearby peaks, the valley way way down below you, yet fairly close, etc. It was so peaceful up there! We ate lunch and drank some tea which we had made and put in a thermos, which was a really great suggestion which a coworker of Steph's had. The temperature was perfect for the hike (cool!), but not so good for sitting around, but we found a place in the sun, and it was nice.

We then went down the relentless trail back to the car and back to Waterfowl Lake, where we camped with some germans again. The next day, I cannot remember exactly what we did. I think we went back to the highest maintained road in Canada, where buses could deliver tourists for one of the incredible views of a lake, glacier, and the mountains beyond, and took some pictures. Then we went to Honeymoon Lake, where we set out to hike around after getting a camp spot, but were foiled by a very fresh bear scat. We decided to turn around and head home. We ended up hanging out on the lake shore, looking at the amazing views. I kept looking at the mountains and thinking about how to ski them, and we drank more tea and read.

The next day, we drove to the Moraine Lake Lodge, where we were to stay for three days in the lap of luxury. It was incredible. The place was totally our style. Very homey and cozy rooms, very small place, very very very good food, super friendly staff, free nature walks with guides hired by the lodge, complimentary sherry, brandy, and wine after dinner, along with a naturalist talk, afternoon tea, etc. It was so incredibly nice!! Did I mention the food being incredible? It really was. Every day was SO perfect there. The hotel blended into the forest very cleanly. It was right on the edge of Moraine Lake, with a bunch of amazing peaks surrounding it, dripping with glaciers, etc. They had free canoes for the guests, but we never took them because it was kinda windy most of the time, and it would have been hard to paddle one way or the other.

We got the "romance in the rockies" package, and it was very nice. All the food was paid for up front, so we just had to show up with a coupon and a three course meal was brought to us. The first day, we checked in and relaxed. The second, we went on a walk with the guide up to Larch Valley. So many people showed up that she had to split the group because she couldn't guide more than 10 folks. We had a GREAT time! Larch valley was up a thousand feet from the lake, and was INCREDIBLE! What views! The larches, deciduous conifers with needles that felt like fur they were so soft, were all turning, and they positively glowed. Incredible!! Our guide was really nice and friendly, and we chatted about her career choice and so on. Once we got to larch valley, we all sat around and were amazed by the windswept beauty of it. But we wanted more. :-)

So Steph went around and drummed up support to head on up to Sentinel Pass, the highest maintained trail in the canadian park system, apparently. We anticipated really amazing views. So it was very fortuitous that we had so many people in our guided group. We had to go in groups of 5 or more into this area of the park, because a few grizzlies had made this into part of their home territorry, and to try to minimize bear problems, we had to go in big groups and make lots of noise. So we were able to break into two groups, and we continued on up the trail.

The group we ended up with was super friendly and really nice! They were from all over the world, and we had a great time chatting and oohing and ahhing at the scenery which unfolded as we climbed past the treeline and up into the alpine wilderness, and finally the rock and snow-swept pass. We couldn't have asked for a better bunch of people if we'd tried!! Some of our members hadn't done much hiking or backpacking before, but even they had a great time and kept cruising on up. It really was a special experience. It really was a pleasure to wander with them, rather than the burden which the large party requirement might make it seem.

And oh, boy, was it worth it. Damn. The views up there were SPECTACULAR!! Glaciers, rock spires, frozen lakes, snow-capped mountains... Wow. We had the pass all to ourselves, after meeting some folks on their way down. We climbed up there and hung out, exhilirated beyond measure by the views. Photos were taken, the wind was crisp and cold, the sun was warm, and it was amazing. Everybody was super happy.

After a while, we picked up our packs and wandered down, stopping to take pictures and rest at every opportunity. We didn't want to leave! So we all wandered down from the mountains, happy and tired. We got back in time for the end of afternoon tea, which we helped along by finishing off the last of the pastries. Our group all got back together, and we shared pictures on our cameras, and traded email addresses. As soon as I get this page up, I'll contact 'em, and we'll all be able to share our pictures. :-) What a wonderful day!! Dinner that night was inhaled, and was all the more yummy because of it. :-)

After dinner, we watched the naturalist presentation. It turned out to be oriented more towards kids and people who didn't know all that much about nature, I think. It was sort of a comedy show rather than a scientific presentation. Which was fun, but there wasn't all that much stuff in it that interested us. Though the woman doing the presentation _really_ knew her stuff. Questions were answered in great detail, and that was the most interesting part of the presentation. But at this presentation, we were approached by some other guests who wanted to know if we wanted to go on the other hike that the guides do, but at a slow pace so that everybody could take pictures and enjoy the view. We like that sort of thing, and wanted to go on that hike, and given the bear restrictions mentioned above, this was a perfect thing. So we agreed to meet and head out the next morning.

So that's what we did, and we ended up picking up a couple of other folks who were not hotel guests as well, and we once again went up the hill. We ended up going up to the lake before sentinel pass, and then down again and over to the other lake at the end of the moraine lake valley. I can't remember the name. We took our time, and even though the day wasn't quite as clear as the previous day, we still had a great time. One woman who came from Seattle had all sorts of interesting ideas about how to become a park ranger from her volunteer trail maintenance days. So maybe I'll go do that someday. :-)

The final day, we slept in and relaxed and then got up and took some pictures of the rockpile next to the lodge and of our room, and we packed our stuff and left. What sadness! It truly was an incredible stay. I cannot recommend that place highly enough. The staff was friendly and nice, and we had SUCH a great time!

We then drove north and up to the road which goes out towards Golden, stopping to look at some burgess shale examples, and then zoomed back to Steph's parent's place, where we hung out for a day, then left for home. Whew! What a wonderful trip! I cannot recommend the canadian rockies highly enough! Such a wonderful place! I want to live there. :-)

Unfortunately, I didn't really turn the GPS on much while I was there, except to get the altitude, so I have no maps. I have no topo map programs which have the canadian rockies in them anyways, so it wouldn't have looked like much anyways. There are some really neat topo paper maps that you can get from a company called Gem Trek up there, though. I highly recommend their stuff. Very nice maps.

Have fun!