Toshok's First Eyebrow Pierce
Actually this was my first real pierce, if you don't count the times I stuck piercing studs through my ears when I was 18...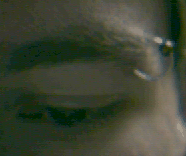 To make a long story short: The ball was off the ring. My girlfriend's hair was pulled back in a pony-tail. The ring hooked onto her hair, and the hole instantly doubled in size, with the appropriate blood and pain.