Temples, Shrines, and Parks
---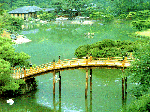 Ritsurin Koen in the city of Takamatsu on Shikoku. It is indeed a beautiful park, with a perfectly groomed landscape and hundreds of large koi.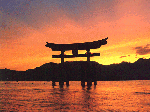 Torii (gate) in Totori near Hiroshima. View of a sunset over over the gate.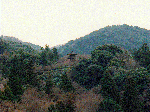 Kiyomizu Dera, or at least part of it. Kiyomizu means clear water.
This is the Daibutsuden building in Todaiji in Nara. This building is the largest wooden structure in the world. In it is a large statue of Buddha.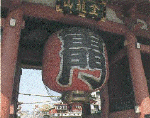 Lantern located at Asakusa Kannon temple in Tokyo. It is between the two giant statues at the front gate.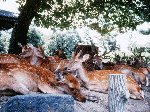 This is a picture of some deer at Nara Koen. These deer stay in the park, and food can be purchased to feed them.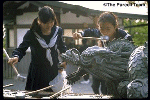 Girls following proper manners to wash their hands and rinse their mouth before entering the grounds of a temple.
---

Back to image categories.