Misc. Pictures
---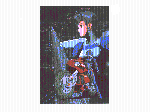 Its Japanamation or Anime! This is Priss and her cycle from The Bubble Gum Crisis.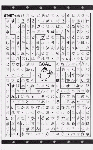 A maze with Japanese writing on it, its a New Year's Card. The correct path is a typical greeting, and the incorrect paths say various amusing things, like telling you that you're in too much of a hurry, etc.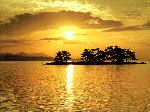 A small Japanese island with the sun setting behind it.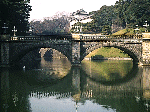 This is Nijuubashi going over the moat at the entrance to the Imperial grounds in Tokyo.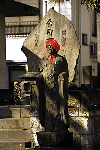 A O-jizo-sama, they can be found throughout Japan by the side of the road, in gardens, parks, etc. Jizo is the manifestation of the Buddha who is the guardian of children and travellers. The red apron and hat are given by worshippers to show their thanks to the Jizo. From the inscription it seems to be located in some place called Kin-cho, and it was erected in the year Showa twenty something, which would make it right around 1950. (from James Hoadley <jhoadley@gol.com>)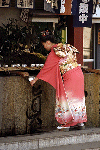 A lady with a traditional kimono on.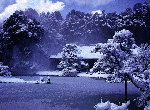 A picture of a building in the cold Japanese winters.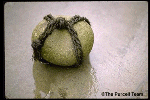 The stone with a cord around is a guarding stone that indicates the way not to take in a garden to get to the teahouse.
---

Back to image categories.